Papież Franciszek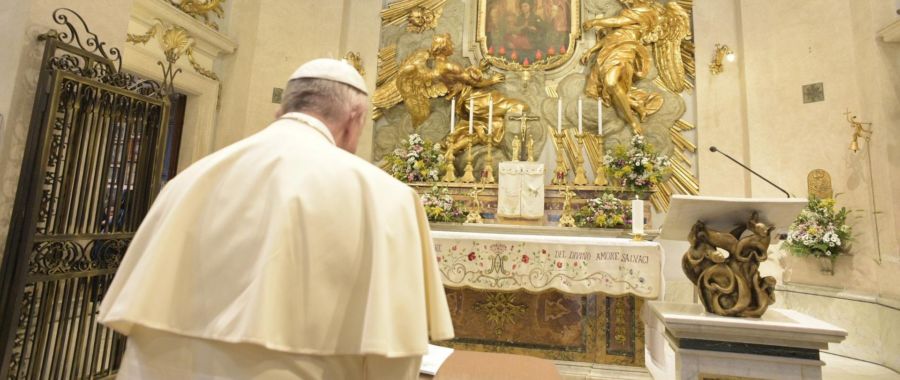 Papież rozpoczął maryjny miesiąc [GALERIA]
| | |
| --- | --- |
| | 2 min. zajmie Ci przeczytanie tego artykułu. |
Franciszek przybył do Sanktuarium (Santuario della Madonna del Divino Amore) dziś popołudniu. Pozdrowił wiernych zgromadzonych na błoniach przed świątynią i podziękował im za serdeczne przyjęcie. Następnie przywitał się z obecnymi osobami świeckimi i duchowieństwem. Szczególną uwagę poświęcił rodzinom z dziećmi oraz osobom chorym i niepełnosprawnym. Następnie wszedł do wnętrza pierwotnej, pochodzącej z XVIII wieku świątyni i pozostał chwilę w skupieniu modlitewnym.
Odmówiono część bolesną różańca. Każdą z tajemnic poprzedzono odpowiednim fragmentem Pisma św. Odśpiewano także litanię do Najświętszej Maryi Panny. Po odmówieniu modlitwy kończącej Franciszek udzielił zgromadzonym apostolskiego błogosławieństwa. Przed powrotem do Watykanu Ojciec Święty pozdrowił z grupę 24 osób starszych oraz z matki z dziećmi, którymi opiekują zakonnice ze zgromadzenia Sióstr Matki Bożej Miłości. Pobłogosławił też wiernych zgromadzonych przed sanktuarium.
Sanktuarium to swoimi początkami sięga XVIII w. Następnie w czasie II wojny światowej po cudownym ocaleniu Rzymu papież Pius XII ogłosił Maryję z sanktuarium Bożej Miłości Wybawicielką Miasta. Jako wotum wdzięczności wybudowano nowe sanktuarium, które zostało otwarte w czasie Wielkiego Jubileuszu. Miejsce to nadal przyciąga mieszkańców Rzymu. Co roku, od pierwszej soboty po Wielkanocy do ostatniej soboty października organizowane są nocne piesze pielgrzymki do sanktuarium.
Jak to się zaczęło
Prawdziwymi inspiratorami uznania maja za miesiąc maryjny byli trzej jezuici. Pierwszy, Annibale Dionisi, w 1725 r. w Weronie opublikował książkę, gdzie opisał strukturę obchodów tego miesiąca. Drugi, Francesco Latomia, w 1758 r. w Palermo wydał serię codziennych medytacji o treści maryjnej na ten miesiąc. I wreszcie Alfonso Muzzarelii w Rzymie w 1785 r. opublikował dzieło, które kończy ten proces. W pierwszej połowie XIX w. w całej Europie i Ameryce maj był już uważany za miesiąc maryjny. Wtedy ta idea rozprzestrzenia się również na kraje misyjne. (zdjęcia: Angelo Carconi, Vincenzo Pinto, PAP/EPA)