Galeria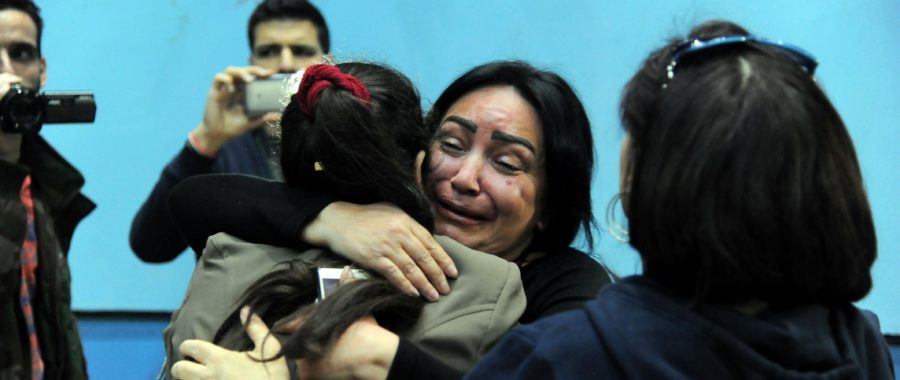 Smutek i modlitwa papieża po atakach w Syrii [GALERIA]
| | |
| --- | --- |
| | 2 min. zajmie Ci przeczytanie tego artykułu. |
"Z Syrii docierają straszne wiadomości o bombardowaniach, które spowodowały dziesiątki ofiar, a spośród których wiele to kobiety i dzieci. Są to doniesienia o wielu osobach dotkniętych substancjami chemicznymi zawartymi w bombach. Módlmy się za zmarłych, rannych, za cierpiące rodziny. Nie ma dobrej wojny i złej wojny, i nic nie może usprawiedliwić użycia takich narzędzi masowego rażenia przeciwko bezbronnym osobom i ludom. Módlmy się, aby odpowiedzialni polityczni i wojskowi obrali inną drogę, drogę negocjacji, jedyną która może doprowadzić do pokoju, a która nie była by drogą śmierci i zniszczenia" – powiedział papież.
Z informacji sił opozycyjnych w Wschodniej Gucie wynika, że może być co najmniej tysiąc rannych. Te same źródła podają, że śmigłowce wojsk Baszara al-Asada zrzucały na miasto bomby wypełnione sarinem.
W poniedziałek w tej sprawie – w trybie pilnym – zebrała się Rada Bezpieczeństwa ONZ
Ambasador Rosji przy ONZ Wasilij Niebienzia powiedział, że Rosja domaga się wysłania do Syrii misji Organizacji ds. Zakazu Broni Chemicznej. Niebienzia zaapelował o wysłanie ekspertów OPCW już we wtorek i zaproponował, że "syryjskie i rosyjskie oddziały będą ich eskortować na miejsce domniemanego ataku". Rosyjski ambasador powiedział również, że informacja o ataku chemicznym w Syrii "została sfabrykowana, między innymi po to, by oderwać uwagę od sprawy Siergieja Skripala"; odniósł się do afery związanej z próbą otrucia w Wielkiej Brytanii, przy użyciu środka chemicznego o zastosowaniu bojowym, byłego rosyjskiego szpiega. Niebienzia oznajmił, że Moskwa ostrzegła USA, iż uderzenie militarne w Syrii może prowadzić do "poważnych reperkusji". Brytyjska ambasador przy ONZ Karen Pierce powiedziała dziennikarzom, że Wielka Brytania wolałaby "zacząć od właściwego śledztwa" w sprawie użycia broni chemicznej, ale "jest w kontakcie" ze swymi bliskimi sojusznikami – USA i Francją. Dodała, że żadna forma retorsji wobec sprawców ataku nie jest wykluczona.