Ameryka Południowa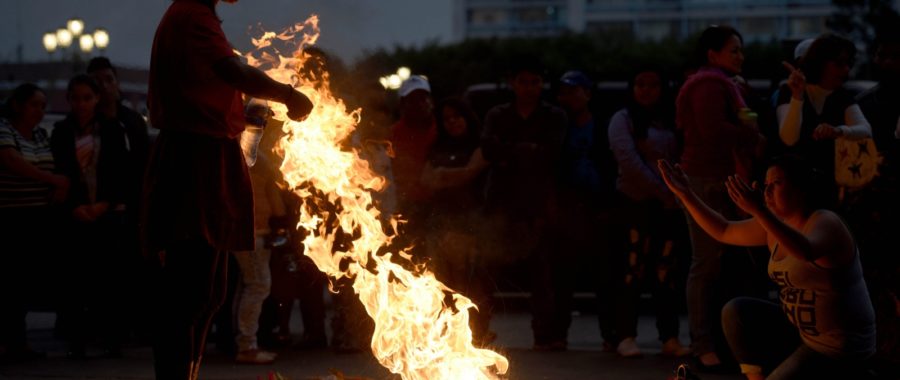 Gwatemala: już 40 ofiar pożaru w przytułku dla młodzieży
| | |
| --- | --- |
| | <1 min. zajmie Ci przeczytanie tego artykułu. |
Do 40 wzrosła liczba ofiar śmiertelnych pożaru, jaki wybuchł w środę w domu opieki dla nieletnich ofiar przemocy w Gwatemali. Ogień rozprzestrzenił się po podpaleniu przez wychowanki domu materaców na znak protestu przeciwko nadużyciom seksualnym ze strony personelu.
Ciała 19 dziewcząt zostały wydobyte przez służby ratunkowe, natomiast 21 dalszych ofiar śmiertelnych to osoby zmarłe w szpitalu na skutek poparzeń.
Według ustaleń policji pożar wywołały same nastolatki, wychowanki zakładu. W środę, w Międzynarodowym Dniu Kobiet, podpaliły one materace, aby zaprotestować w ten sposób przeciwko nadużyciom seksualnym, "handlowi żywym towarem", jak to określił gwatemalski dziennik "Prensa Libre" i przemocy stosowanej wobec nich przez personel zakładu wychowawczego.
Próby opanowania ognia za pomocą gaśnic nie dały rezultatu. Z pożaru wyniesiono w środę 41 poszkodowanych dziewcząt, ale dziewięć z nich zmarło, zanim zdołano je przewieźć do szpitala Świętego Jana Bożego w stolicy Gwatemali.
Zakład opiekuńczy dla dziewcząt i chłopców pod wezwaniem Wniebowzięcia Najświętszej Marii Panny był już wielokrotnie przedmiotem krytyki w gwatemalskich mediach z powodu stosowanych tam metod wychowawczych oraz nadużyć seksualnych ze strony personelu.
Fot. PAP/EPA/EDWIN BERCIAN