Ameryka Południowa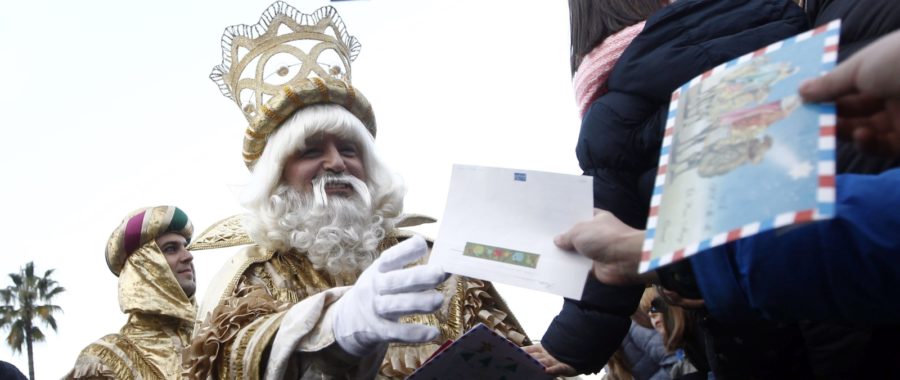 Ciasto z diamentem i sianko dla wielbłądów, czyli Trzech Króli po latynosku
| | |
| --- | --- |
| | 3 min. zajmie Ci przeczytanie tego artykułu. |
W Polsce 6 stycznia ustanowiono dniem wolnym od pracy. Coraz popularniejsze stają się też orszaki Trzech Króli, które podkreślają charakter tego święta. A jakie znaczenie ma ten dzień dla mieszkańców Hiszpanii i pozostałych krajów hiszpańskojęzycznych?
Święto przede wszystkim dla dzieci
Tradycja tego dnia opiera się przede wszystkim na dzieciach. To one piszą do Trzech Mędrców listy z życzeniami dotyczącymi prezentów oraz opowiadają, czy zachowywały się dobrze. Z kolei w przeddzień święta czyszczą buty i stawiają je w widocznym miejscu, zazwyczaj przy łóżku, by Królowie włożyli do nich prezenty, podobnie jak w Polsce robimy to 6 grudnia, w imieniny św. Mikołaja. Piękną tradycją jest zostawianie królom mleka i ciastek, by nie szli głodni do innych dzieci. Również wielbłądy mogą liczyć na trochę wody i siana. W wielu krajach takich jak np. Argentyna, Dominikana, Portoryko, Paragwaj czy Urugwaj Trzej Królowie przynoszą dzieciom mniej lub bardziej wymarzone prezenty. Jeśli natomiast zachowywały się źle, dostają nie rózgę, a węgiel. Co ciekawe, w Wenezueli wierzy się, że Trzej Królowie są naprawdę bogaci i dlatego między prezentami można też znaleźć pieniądze.
Co kraj to obyczaj
Każdy z krajów w Ameryce Południowej świętuje odrobinę inaczej, pomimo że tradycja sama w sobie została tam zawieziona przez Hiszpanów. W wielu krajach tak jak w Polsce odbywa się orszak Trzech Króli, choć zdarza się, że przechodzi w przeddzień samego święta. W Hiszpanii pewną ekstrawagancją ostatnich lat jest fakt, że Królowie przybywają na statku i helikopterem. Wigilia Trzech Króli jest również barwna w Meksyku, gdzie odbywają się pokazy tańców folklorystycznych, wyścigi koni, walki kogutów czy rodeo. W Wenezueli corocznie przygotowywana jest inscenizacja związana ze świętem. W parafiach rozdaje się też dzieciom słodycze.
Boliwia nie ma jakiegoś szczególnego sposobu świętowania. Dzień ten oznacza koniec czasu Bożego Narodzenia, dlatego wierni rozmontowują szopki. Zwyczajem jest też pójście do kościoła z obrazem Jezusa, by został on pobłogosławiony. Częste jest też zostawianie zniszczonych obrazów przy wejściu do kościoła, by, jeśli ktoś zechce, mógł je sobie wziąć.
W przeciwieństwie do Boliwii, nie wiedzieć czemu to Portoryko jest krajem, który wyjątkowo celebruje ten dzień. Przypuszcza się, że ma to związek z tym, że na samym początku kolonizacji Ameryki właśnie na ten dzień datuje się pierwszą w historii tego kontynentu Mszę świętą. Innym wyjaśnieniem jest przekształcenie bardzo popularnego dawniej zwyczaju kolonialnego, zgodnie z którym właściciele ziemscy wypuszczali jedyny raz w roku swoich afrykańskich niewolników, by poczuli odrobinę wolności i żebrali po domach. Przebierali się za diabełki, by nikt ich nie rozpoznał. Było to częścią karnawałowego święta diabełków, podczas którego inscenizowano dobro i zło.
Ciasto z niespodzianką
Jeśli chodzi o gastronomię, to jedną z najważniejszych tradycji wspólnych wielu zakątkom Ameryki jest przygotowanie lub kupienie ciasta rosca (lub roscón) de Reyes. Ma ono okrągły kształt, co symbolizuje wieczną miłość Boga oraz koronę króla. Przygotowuje się go z mąki, wody, cukru i kwiatów drzew cytrusowych. Na wierzchu ozdabia się owocami, kremem lub czekoladą. Jednak to, co jest w tym deserze szczególnego, to ukryta w środku figurka z plastiku. Nie jest to przypadkowy zwyczaj. Ma on odzwierciedlać to, co uczynili Maryja z Józefem – uciekli do Egiptu, ukryli się przed morderstwami dzieci, które zlecił Herod w poszukiwaniu Jezusa. Kto znajdzie figurkę, ma zaszczyt zaprosić świętujących z nim do jakiegoś lokalu i zapłacić za nich.
Najpopularniejsze jest kupno ciasta w jednej z miejscowych cukierni. Niektóre z nich w ostatnich kilku sezonach w ramach podziękowania dla klientów zamiast figurki umieszczają w jednym jedynym cieście z całej serii, która może wynosić np. 200 tysięcy, coś wyjątkowo drogocennego. Do tej pory słyszano o banknotach czy kamieniach szlachetnych, jak na przykład diament włożony w tym roku.
Ameryka jest długa i szeroka, dlatego sposoby świętowania mnożą się same. Cieszmy się różnorodnością, która łączy się w punkcie wspólnym, jakim jest narodzenie Jezusa i złożenie mu darów przez Trzech Króli.
Fot. PAP/EPA/Javier Etxezarreta, Sashenka Gutierrez, Zipi, Raquel Manzanares, Marta Perez, Juanjo Martin, Raul Caro, Kiko Huesca, Miguel Tona, Lavandeira Jr., Susanna Saez