Europa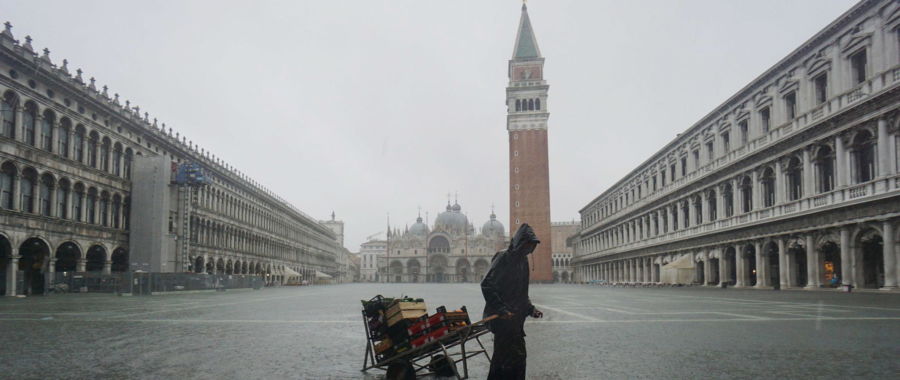 Wielka woda w Wenecji. Woda wdarła się do bazyliki św. Marka [ZDJĘCIA]
| | |
| --- | --- |
| | 2 min. zajmie Ci przeczytanie tego artykułu. |
Po dużym przypływie wody w Wenecji zalany został przedsionek bazyliki świętego Marka. Poziom wody wewnątrz budynku sięgnął 70 cm. Eksperci cytowani przez włoskie media są pewni, że zdarzenie to z całą pewnością spowoduje szkody w liczącej ponad 1000 lat świątyni. Woda zalała między innymi nowe marmury, które niedawno wymieniono.

– Staramy się ograniczyć szkody, bo nie mamy systemu ochronnego, kiedy woda jest tak wysoka – powiedział zarządca dóbr świątyni inżynier Pierpaolo Campostrini. Jak ocenił, w takim przypadku sprzęt i urządzenia, jakimi dysponują, nie są wystarczające. W nocy z wtorku na środę spodziewane jest dalsze podniesienie poziomu wody w Wenecji. Inżynier zapewnił, że w bazylice będzie prowadzony stały monitoring. Dodał, że administracja budynku czeka na to, aż rząd włoski wywiąże się ze swoich obietnic i zrealizuje do końca projekt systemów przeciwpowodziowych zapór Mose. Ten system ma z powodzeniem chronić plac świętego Marka przed stałym zalewaniem.
>>> Włochy: Wenecji grozi całkowite zalanie do 2100 roku
Wenecja rzucona na kolana
Ostatni taki wysoki poziom wody w Wenecji był 4 listopada 1966 r. Minęło praktycznie pół wieku i powtórzyła się ta sytuacja. Syreny w Wenecji znowu zawyły w środę o 8.30. Kwadrans później okazało się, że prognozy są jeszcze gorsze niż dotychczas przypuszczano, a poziom wody w mieście może być wyższy o dodatkowe 20 centymetrów.  Najgorzej było jednak w nocy, 187 centymetrów to drugi najgorszy wynik w historii, po historycznej fali w 1966 roku, gdy wielka woda była na poziomie 194 cm. – To sytuacja bardziej niż wyjątkowa. Katastrofa – mówił burmistrz Wenecji Luigi Brugnaro i dodał: "Wenecja została rzucona na kolana. W bazylice świętego Marka szkody są poważne, podobnie jak w całym mieście i na wyspach".
Kolumny w bazylice – zagrożone
Z kolei przewodniczący władz regionu Luca Zaia przyznał, że pod wodą znajduje się "80 procent miasta". Jak dodał, "szkody są niewyobrażalne". Dlatego w środę wszystkie szkoły były zamknięte, strażacy nie przestają interweniować, rozpoczęło się też pierwsze liczenie strat. Trudna sytuacja jest również w najbardziej znanej bazylice św. Marka. Najpierw woda popychana przez silny wiatr wdarła się do jej przedsionka na wysokość kilkudziesięciu centymetrów. Ucierpiały m.in. marmury, które zostały niedawno wymienione. Potem okazało się, że zniszczenia są poważniejsze. Potwierdził to jej zarządca inżynier Pierpaolo Campostrini. Jak stwierdził, "było o krok od apokalipsy, od katastrofy". Woda zalała też kryptę, a Campostrini powiedział, że istnieją poważne obawy, aby nie została naruszona trwałość kolumn, które podtrzymują historyczną bazylikę. Szkody są również w teatrze La Fenice.
W całej historii bazyliki (pochodzącej z IX wieku) woda tylko 5 razy wdzierała się do środka. Niepokojące jednak jest to, że aż 3 razy stało się tak w ostatnich dwudziestu latach. Rząd wysłał już na miejsce swoich przedstawicieli z zapewnieniem, że zostaną uruchomione specjalne środki, aby uchronić zabytek przed poważniejszymi szkodami. Nie w samej Wenecji, ale na położonej tuż obok wyspie Pellestrina są 2 ofiary wielkiej wody. Jeden mężczyzna zmarł porażony prądem w zalanym domu. Możliwe, że zostanie ogłoszony stan klęski żywiołowej.