Ameryka Południowa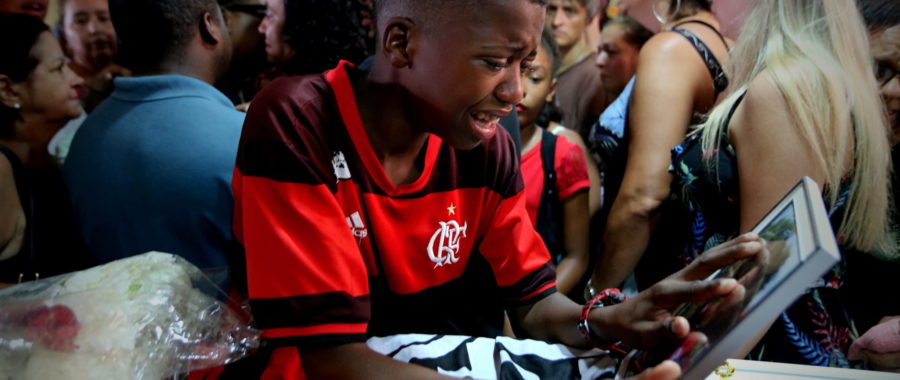 Brazylia opłakuje młodych piłkarzy [ZDJĘCIA]
| | |
| --- | --- |
| | <1 min. zajmie Ci przeczytanie tego artykułu. |
10 młodych zawodników zginęło w pożarze w ośrodku szkoleniowym klubu piłkarskiego Flamengo. Setki brazylijskich fanów wyszło na ulice Rio de Janeiro, aby upamiętnić zmarłych piłkarzy. Władze miasta ogłosiły trzydniową żałobę. Prezes Flamengo stwierdził, że to największa tragedia w historii klubu.
Marilia Barros da Silva – matka jednego z piłkarzy – mówiła dziennikarzom: "Muszę teraz żyć z ogromnym bólem… Moja rodzina i przyjaciele wiedzą jak wielką radość dawał mi mój syn. Był dla mnie wszystkim. Wszystkim… Kilka dni temu spytałam moich znajomych z pracy: nie chcecie mieć dzieci?. Odpowiedzieli, że nie wiedzą. Powiedziałam wtedy, że nie chciałabym nawet wiedzieć, jak wyglądałoby moje życie bez Arthura. Teraz niestety muszę się nauczyć, jak żyć bez mojego syna…"
Kibice i wszyscy Brazylijczycy podkreślają, że to bardzo bolesne doświadczenie, że czują jakby to oni także stracili kogoś bliskiego. Odbywają się już pierwsze pogrzeby ofiar tragicznego pożaru. Ludzie, chcąc oddać cześć zmarłym chłopcom, klaszczą. Taka jest tradycja w Brazylii (fot. Marcelo Sayao, PAP/EPA).