Galeria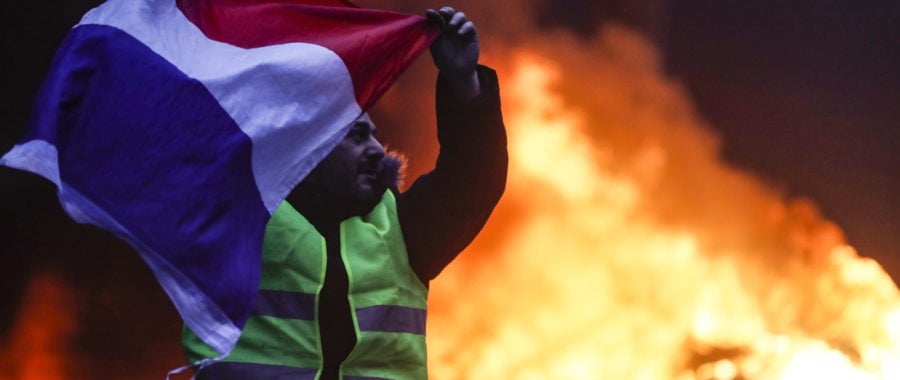 Francja: rząd rozważa wprowadzenie stanu wyjątkowego po zamieszkach [GALERIA]
| | |
| --- | --- |
| | 2 min. zajmie Ci przeczytanie tego artykułu. |
Francuski rząd rozważa wprowadzenie stanu wyjątkowego; ma to zapobiec wystąpieniu kolejnych rozruchów – powiedział w niedzielę rzecznik gabinetu Benjamin Griveaux. Wezwał do dialogu protestujących z ruchu "żółte kamizelki". Według władz pod demonstracje podłączają się m.in. grupy "chuliganów".
"Musimy myśleć o środkach, które można podjąć, by takie incydenty nie zdarzyły się ponownie" – powiedział Griveaux w radiu Europe1, odnosząc się do sobotnich zamieszek w Paryżu.
Zapytany przez dziennikarza o ewentualne wprowadzenie stanu wyjątkowego rzecznik odparł, że jest to wśród rozważanych opcji.
Grupa młodych zamaskowanych mężczyzn, z których część trzymała metalowe pręty i siekiery, wywołała w sobotę rozruchy w Paryżu, gdzie tego dnia odbywała się manifestacja protestujących m.in. przeciw podwyżkom akcyzy na paliwo "żółtych kamizelek". Podpalonych zostało kilkanaście pojazdów oraz niektóre budynki, głównie w środkowej i zachodniej części miasta.
Według bilansu podanego w niedzielę przez paryską policję w sobotę w stolicy Francji rany odniosły 133 osoby, w tym 23 członków sił bezpieczeństwa, i dokonano ponad 400 zatrzymań. Jak ocenia agencja AP, były to największe od lat rozruchy w Paryżu.
Jeszcze w niedzielę prezydent Emmanuel Macron ma odbyć nadzwyczajne spotkanie z premierem Edouardem Philippe'em i ministrem spraw wewnętrznych Christophe'em Castanerem. Mają na nim rozmawiać o tym, jak uporać się z zamieszkami oraz jak rozpocząć dialog z nieustrukturyzowanym, spontanicznym protestacyjnym ruchem "żółtych kamizelek".
Demonstracje i blokady ruchu trwają od 17 listopada i szybko rozprzestrzeniają się po całym kraju, głównie dzięki mediom społecznościowym. "Żółte kamizelki" wyrażają swój sprzeciw m.in. wobec podwyżek podatków od paliwa, które wprowadzane są w ramach rządowej polityki transformacji energetycznej kraju.
Francuskie władze poinformowały, że pod demonstracje w Paryżu podłączają się grupy "chuliganów" z lewicowych i prawicowych ruchów skrajnych. Szef MSW oświadczył, że większość zatrzymanych stanowią zwykli demonstranci "podpuszczeni" przez chuliganów.
Komentując sobotnie wydarzenia w Paryżu, prezydent Macron podkreślił, że "będzie zawsze szanować opozycję, ale nigdy nie zaakceptuje przemocy". Wcześniej w tym tygodniu prezydent ogłosił chęć dostosowania podatków od paliwa do wahań cen surowca i zapowiedział obszerne konsultacje w sprawie polityki energetycznej i środowiskowej.
W niedzielę w telewizji BFMTV Castaner ponownie podkreślił, że rząd nie ma zamiaru zmieniać kierunku swojej polityki. "Od 30 lat kierunek się zmienia co 18 miesięcy. Gdybyśmy nie zmieniali tego kierunku co 18 miesięcy od 30 lat, kraj byłby w lepszej kondycji" – mówił szef MSW. Ponownie podkreślił, że rząd jest gotowy na rozmowy z przedstawicielami protestujących.